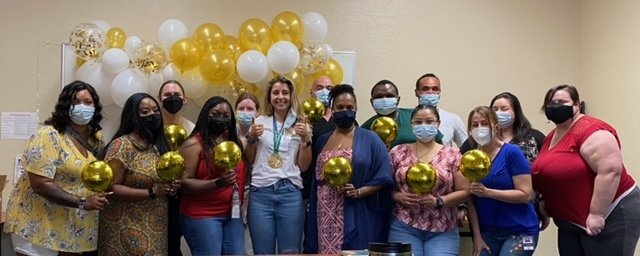 We're over the moon to announce that our Telecare SOAR personal service coordinator, McCall Madriago, and her U.S. Deaf Women's National Soccer teammates won gold at the 2022 Deaflympics in Brazil!
She and her team played games in several countries and had a blast doing it! They were successful in their goals and had a lot of fun along the way. The U.S. Deaf Women's National Soccer team took on Poland in their final match and played their hearts out. The game ended in a tie! The group emerged victorious on penalty kicks, with a final score of 2 out of 4. Congratulations on their fantastic performance. This was a great victory for the team!
McCall embodies dedication and years of hard work - a great example of what one can achieve through practice. We are thrilled for McCall and all the incredible effort she has put in to achieve this! The Deaflympics are a joyous opportunity to showcase one's athleticism, commitment, and perseverance. It takes all these things to be a successful competitor in the games.
The SOAR team was thrilled to celebrate her win with U.S. themed cupcakes and gold balloons. What a great way to show support for a job well done!
Congratulations, McCall! Your dedication has paid off amazingly — you're an inspiration to us all! We're so happy to celebrate your win with you!