View fullsize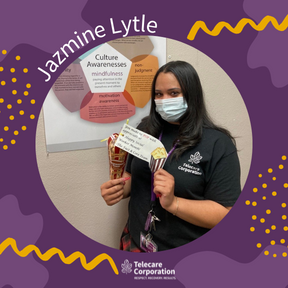 View fullsize
View fullsize
View fullsize
Social Work Month was initially introduced in 1963 by the National Association of Social Workers. It was formally recognized in 1984 by the United States government. This year's theme, chosen by the National Association of Social Workers, is The Time is Right for Social Work, to educate the public about social workers' fantastic work. 
The principal goal of social workers is to support individuals, households, and communities to overcome social problems that prevent them from reaching their fullest potential. Social workers often challenge social injustices while respecting the inherent worth and dignity of the individuals they serve. Telecare's San Bernardino CORE and FACT programs celebrate Social Work Month by honoring their hardworking student interns. Below, Medical Records Technician Eileen Garcia shares the wonderful experience she's had working with the intern team: 
"Jocelyn Mendoza is our FACT clinician intern. She is personable and can make everyone she meets feel comfortable. Everth Chamorro is a Master of Social Work (MSW) intern from USC who is calm and has a noticed work ethic. MSW intern Montaye Kyle is a highly-qualified and eager learner who is always ready to ask questions and take notes. Jazmine Lytle is an MSW Intern from USC who is passionate about working with each individual to create the best possible outcome. We respect and value their work in the field of social work."
Happy Social Work Month!
For more Internship Information:
Reach out to Natalie Reinfeld; internship@telecarecorp.com
Inspiration

Interns at Telecare

Stories from Programs