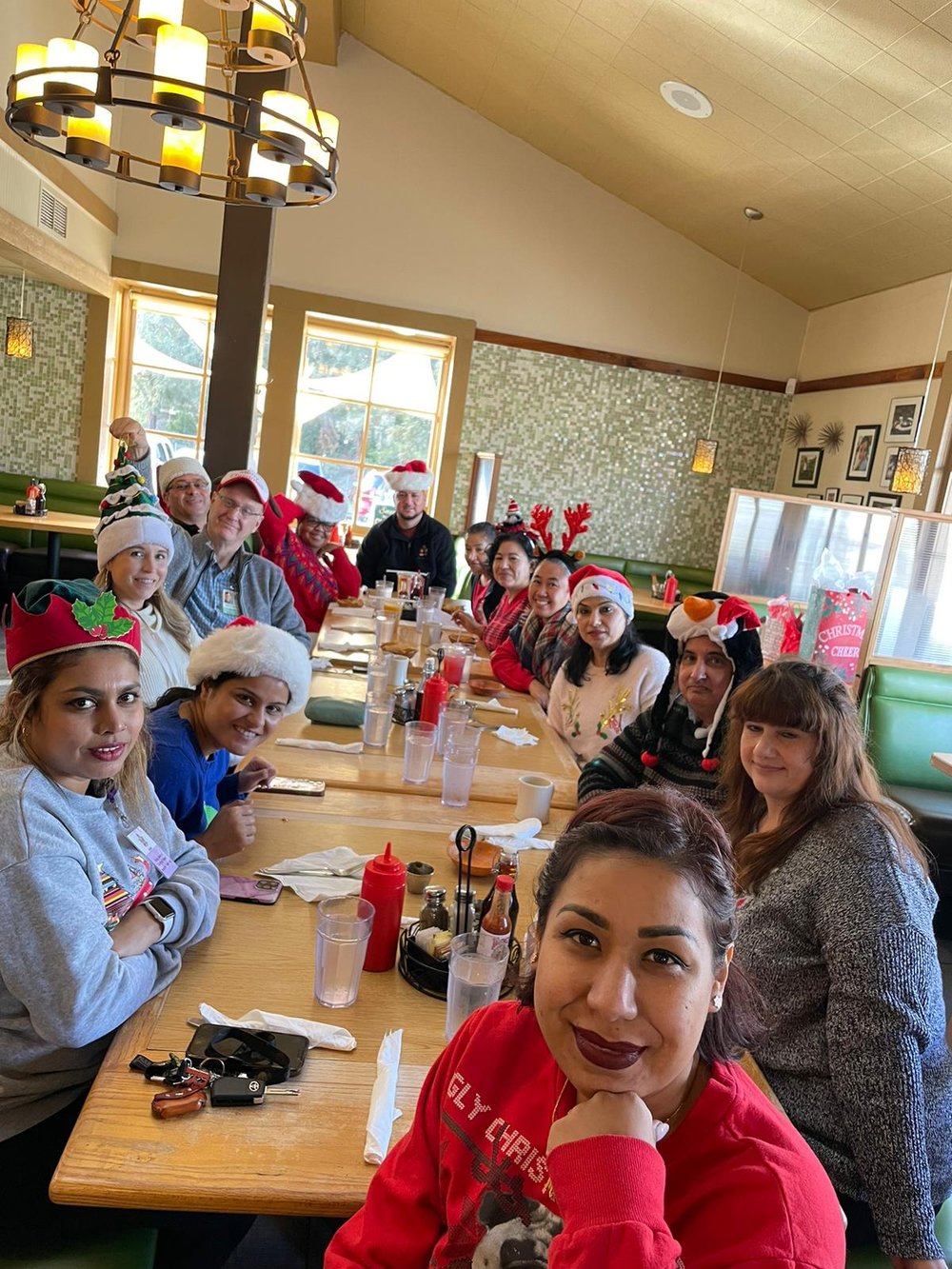 Telecare's Morton Bakar Center's management team had to make the difficult decision of postponing their annual holiday bonding outing due to the ongoing COVID pandemic. Despite the difficult conditions, the team refused to be discouraged and banded together in March instead!
The Christmas in March event was celebrated with festive sweaters and delicious food. To add to the festivities, the team at Morton Bakar warmly welcomed their new administrator, Maria Thompson, who has returned to the program after four years.
Known as a "Telecare boomerang," Maria previously served as Rehab Director at Morton Bakar Center before leaving to pursue a career as an administrator. The team is excited to reunite with Maria and looks forward to working together to continue providing excellent care to their community.
Christmas in March showed the team's resiliency and the spirit of never giving up. We love your enthusiasm Morton Bakar Center!
Read on for Maria Thompson's thoughts about her return to Morton Bakar Center:
"I left Morton Bakar Center after nine years, eight as their Director of Rehabilitation, to pursue my dreams of becoming a successful Nursing Home Administrator. The four years I was away were a great learning experience in my professional development and future career. However, although I worked for different employers, no matter where I went, I never forgot my Telecare values. It was the foundation of who I wanted to become as a leader in an industry that can sometimes place profit over people. The culture that raised me into the leader I am today was what made me successful. What helped me overcome a pandemic and show up for the staff and residents through the most challenging time in our industry. Getting the opportunity to return to Morton Bakar Center has been a blessing to me, and the transition seems non-existing. It's like a college student coming back from school to her home. A place where I feel safe, understood, valued, and, more importantly, loved. Morton Bakar Center is my foundation and where my roots started, and I am thrilled to continue with a culture that shares my personal beliefs." ~ Maria G. Thompson