Michelle Dabbs is growing in her career at Telecare, and that's worthy of a celebration!
Michelle was recently promoted to Regional Director of Operations in Orange County, CA. To celebrate her departure from her role as administrator of TAO Central and Mission Possible, her coworkers gathered to share their favorite memories of Michelle along with her favorite cake— confetti cake!
TAO Central and Mission Possible staff can also celebrate their own hard work after receiving glowing praise this month from an official in Orange County.
"In my opinion, one of the program's biggest strengths is the welcoming culture amongst staff that I have witnessed when I have visited. Staff is mingling amongst one another as well as with members, and it is very clear that it is a collaborative environment. It's hard to put a value on how impactful that is. I personally believe that the high FFP must be, in some way or another, a result of that positive, inviting atmosphere that encourages staff to show up for work, to provide frequent, impactful services to members who are then able to obtain and sustain independence and recovery. Thank you for continuing to make it a fun place to visit as well as an inviting space for members to frequent."
-Meredith Robie, LMFT (Behavioral Health Clinician II and Contract Monitor)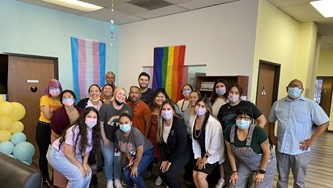 Michelle has been at Telecare for four years. In her new role, she oversees TAO North, TAO Central, TAO South, Home First, Treehouse North, and Treehouse South. To learn more about Michelle, her work, and why she chose to work in mental healthcare, read her feature on our Humans of Telecare page.
There's also no shortage of uplifting stories from TAO Central and Mission Possible during Michelle's tenure. Interested in a member recovery story? Andre's story is one to watch. Want to see what staff was able to do for members in the height of the COVID-19 pandemic? There are plenty of stories of them delivering meals and putting together care packages.